Revitalize Your Youthful Appearance with Chin Liposuction in Orlando
If you've reached this page via an Internet search for "chin liposuction," then you are already well aware that this amazing procedure works wonders in removing those stubborn fatty deposits from your chin. That's why if you've always desired to say good riddance to that dreaded double chin, chin liposuction (also known as submental liposuction or simply "chin lipo") just may be the perfect long-term solution for you.
Understanding the Chin Liposuction Procedure
Dr. Rotatori and his dedicated team perform this minimally invasive, customized surgery in Orlando under local anesthesia in an outpatient setting. Note that this procedure is individually tailored to suit your overall appearance and cosmetic goals. The entire procedure involves minor discomfort and typically takes less than an hour. Each member of our world-class team provides you with personalized care throughout your entire treatment.
What You Need to Know About Recovery from Chin Liposuction
The procedure has very little downtime (usually no more than three days). You will be able to return home immediately after the procedure and most likely be able to return to work within a few days. Our staff will provide you with all the information you need to comfortably recover from your surgery.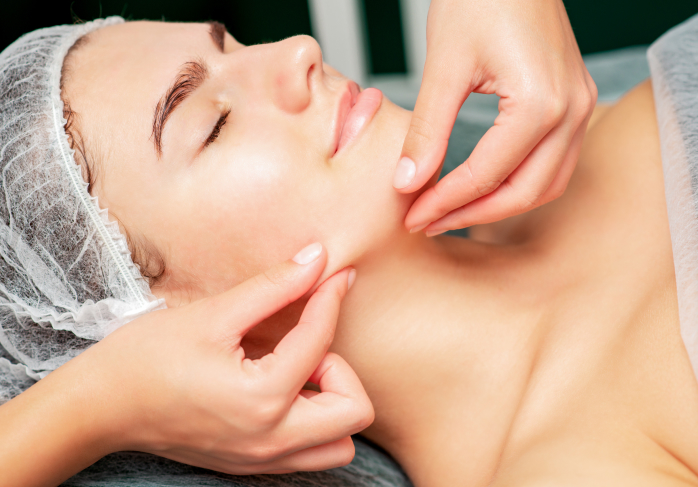 Are You a Candidate for Chin Liposuction Treatment?
If you have a double chin, then you're not alone. According to data from the American Society for Dermatologic Surgery (ASDS), approximately 68% of Americans are unhappy with excess fat under the chin and neck. Unfortunately, a double chin can't be exercised away or hidden by clothing or makeup. Common causes of a double chin include excess fat from weight gain, genetics, posture and looser skin resulting from the aging process.
That's why chin liposuction in Orlando may be the right choice for you if you are physically healthy, at a stable weight and lead an active lifestyle but have struggled with stubborn chin fat even when you eat healthy and exercise. According to the American Society of Plastic Surgeons (ASPS), "Chin liposuction surgery is a highly individualized procedure. It can be a life-changing procedure for patients who are self-conscious about their chin." The good news is that the chin is the easiest area of the body to treat with liposuction. With this procedure, you'll get rid of that excess chin fat, see a noticeable improvement with a smoother, more contoured appearance in as little as a week, and regain your confidence in the process.
Note that chin liposuction is often combined with other cosmetic facial surgery and body sculpting procedures. These include face-lifts and laser skin tightening treatments. The best way to determine if you're the right candidate for this procedure in Orlando is to schedule a consultation with Dr. Rotatori.
The Amazing Benefits of Chin Liposuction in Orlando
Some of the advantages of undergoing this treatment from Dr. Rotatori include:
Removes Unwanted Chin Fat
Enhances and Refines Your Jaw Line
Restores a More Youthful and Refreshed Appearance
Improves Self Confidence
Minimally Invasive Procedure
Very Little Downtime
Often Combined with Other Surgical Procedures
According to the ASPS, "The results of liposuction will be long lasting, provided you maintain a stable weight and general fitness."
Choose Dr. Rotatori for Your Chin Liposuction in Orlando
With the amazing growth in the demand for chin liposuction, it seems like doctors of every specialty are now offering this procedure. However, although this treatment may seem simple, it isn't. That's why you should trust only a board-certified plastic surgeon like Dr. Rotatori to perform this trusted procedure. Orlando's premier, award-winning cosmetic surgeon, Dr. Rotatori is consistently recognized as one of the best doctors in his field. He is known for his surgical expertise and artistic skills, along with offering the most advanced treatment options available.
In fact, patients come from all over to get the results that Dr. Rotatori's unique skill and experience offers. He and his expert team of specialists are ready to help you look and feel your best with chin liposuction surgery. At Dr. Rotatori's office, you can count on the highest level of patient care. We put your safety first and provide you with customized care by only recommending medically sound, proven plastic surgery procedures that provide incredible results. Our focus is entirely on you!
Meet Dr. Rotatori for a Consultation!
Frequently Asked Questions
If you struggle with stubborn chin fat even if you lead an active lifestyle, you may be a good candidate for this procedure. Schedule your chin liposuction consultation with Dr. Rotatori today.

Since chin liposuction is a minimally invasive procedure, it is performed under local anesthesia in an outpatient setting and usually takes less than an hour. Downtime is usually as little as three days.

The time it takes to recover from this procedure is relatively short - usually no more than three days. You may experience some slight swelling and bruising. Schedule your personal consultation today for more details about chin liposuction surgery in Orlando.