HydraFacial Orlando:
Achieve a Glowing Complexion with No Discomfort or Downtime
Ready to improve your tired, aging skin and achieve a refreshing, more youthful look and confidence boost with no discomfort or downtime?

A revolutionary, invigorating and refreshing new skincare treatment, HydraFacial features a noninvasive, multi-step procedure that removes dead skin cells and extracts impurities, while infusing healthy serums and soothing moisture into the skin. The HydraFacial procedure is safe for all skin types.

Best of all, this innovative skin rejuvenation treatment is now available from our skilled and licensed aestheticians in the comfort of our Winter Park office.

Understanding the HydraFacial Procedure
A noninvasive skin rejuvenation treatment, HydraFacial uses a patented device to cleanse, extract and hydrate your skin. The HydraFacial process features deep cleansing, exfoliation, extraction of impurities and hydration using a specialized serum.

HydraFacial treatment typically takes just 60 to 80 minutes to complete. During your consultation, you will be able to review all of your available options for HydraFacial treatment.
What to Expect After HydraFacial Orlando Treatment
Since HydraFacial is a gentle, noninvasive cosmetic procedure, it generally does not require any downtime or recovery period. Therefore, you should be able to return to your normal activities immediately after the HydraFacial procedure. You may experience minor redness or sensitivity after HydraFacial treatment, but this typically subsides within a few hours. 

Are You A Good Candidate for HydraFacial Treatment?
HydraFacial treatment is designed for all skin types. In general, you are a good candidate for a HydraFacial if:
You Want to Improve the Overall Appearance and Health of Your Skin
You Have Fine Lines and Wrinkles
You Have Sensitive Skin That Can't Tolerate More Aggressive Skin Treatments
You Want to Reduce the Appearance of Pores
You Have Oily and Acne-Prone Skin
You Have Sun Damage, Brown Spots or Hyperpigmentation
You Have Skin That is Dull or Unevenly Textured
To find out if HydraFacial treatment is right for you, schedule a consultation.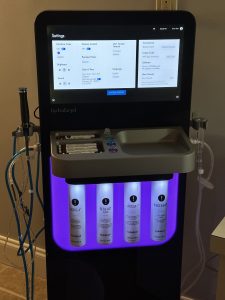 Discover the Benefits of HydraFacial Orlando
A versatile and highly effective skincare treatment, the HydraFacial procedure can enhance the health and appearance of your skin in a relatively short amount of time. Some of the main benefits of HydraFacial treatment include: 
Improved Skin Texture and Hydration
Reduced Hyperpigmentation and Acne
Noninvasive and Customizable
Choose Our World-Class Team for Your HydraFacial™ Procedure
Become your better self with HydraFacial™ treatment from our world-class team of aestheticians. We offer only the safest and most effective HydraFacial techniques applied under strict guidelines.

Schedule your consultation to find out if a HydraFacial™ is right for you. We'll work together with you to help you achieve all your aesthetic goals.


Meet Our Medical Aesthetician for a Consultation!
Frequently Asked Questions
HydraFacial™ treatment is designed for all skin types. However, since a HydraFacial™ is a highly customized procedure, you should schedule a consultation to determine if you are a good candidate.

Since HydraFacial™ treatment is a noninvasive procedure, you will only experience minimal discomfort. Since there is no downtime, you should be able to return to your normal activities right after the treatment.

Although results vary for each individual, many of those who have undergone the HydraFacial™ procedure report seeing visible skin refinement after only one treatment. However, to improve the appearance of fine lines and wrinkles, as well as oily skin, acne and hyperpigmentation, we recommend one HydraFacial™ treatment per month.